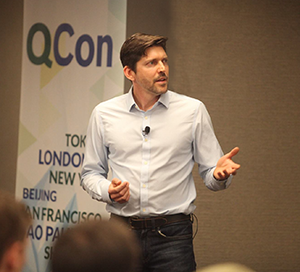 Kai Mantsch began his career in the trenches of tech, working at startups and international research institutions as a software developer, mentor and leader. He now coaches tech leaders at companies like LinkedIn, Google, Atlassian, and Genentec, speaks to international audiences, and helps nonprofit leaders build careers of life-long, sustainable impact. Kai's background in improvisational theater and live musical performance make him a passionate speaker who shares lively stories, clear, actionable content and intimate moments of impact.
Practical, Enriching and Passionate Speeches
Giving difficult feedback without getting burned
Many new leaders and managers have a hard time giving constructive feedback that helps shift behavior without creating animosity or plunging morale. Kai speaks from experience, using short enactments and in-the-moment practice for the audience that builds capacity immediately. He presents the simple, easy-to-remember SALT framework with steps that are actionable and straightforward, providing confidence and capacity to do more.
You won't survive the future without being creative – this is how we do it
The working world is killing off old jobs and manifesting new ones at a terrifying rate. We are being asked to invent our own jobs, and then re-invent them again. Kai grew up without a television set and before digital watches. He spent his time building robots out of lawnmower wheels, garbage cans and surplus electric motors. Since then he's produced software for fortune 50 companies, composed a Glam Rock Opera, and performed for crowds of thousands. Kai will show you how to develop your own ability to manifest fresh ideas as if by magic and keep your company alive through this time of upheaval.
Post-jaded techies: living through burnout and re-igniting passion
Do you remember when making things blink and spin was fun? Are you starting to feel dread when you power up to get to work? Is it harder and harder to focus? After years of coding and sleepless nights Kai burnt out and was forced to leave tech behind. He went through a lengthy process of standing back up, reconnecting to his love for the art, and learning powerful new practices to prevent exhaustion and burnout. Learn how you can build habits and skills now to avoid the same, and have the choice to come back home if you've already been scarred by the flames.
The new new age of enlightenment: how mindfulness is just the beginning of a new, more powerful integrated approach to awakening
We are at a remarkable time in history when all of what Kai calls, "Spiritual Technologies" have been translated and made available to anyone. Thousands of years of experimentation and research by Sufis, Tibetans, Japanese Zen masters and more are being explored and merged with neuroscience research and psychology. What is emerging is an integral, western approach to transformation. Here are the trends and how you can take advantage of them.